Apples keep you young and make beautiful.
An apple in the morning removes wrinkles and worries. So eat half the apple and use the other half as a face mask. What is that good for?
The apple season is a perfect occasion for an extensive beauty treatment. Apples are fruits full of vital substances essential for beauty; the group of flavonoids plays a unique role. These are natural energy packs because they are an effective anti-aging agent.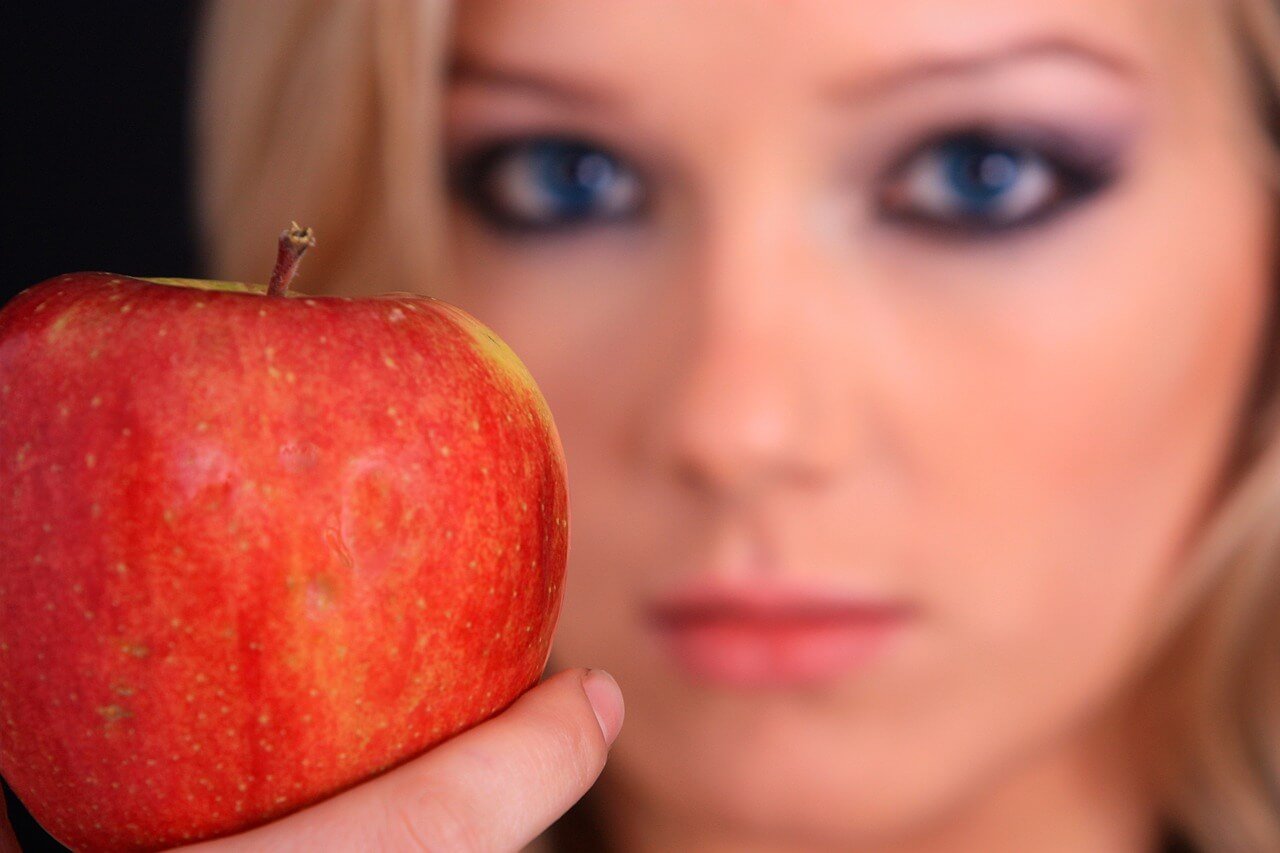 The apple is a natural vitamin bomb and helps the skin increase its vitality. An apple contains around 30 vitamins, trace elements, and minerals such as potassium, calcium, iron, phosphorus, and magnesium. It is rich in B group vitamins, and vitamins C, E, and K. Vitamin B1 is beneficial for blemished skin, and vitamin B2 is essential for healthy cell growth.
Thanks to the ingredients, the apple has an anti-inflammatory, cleansing, purifying, and detoxifying effect on the skin. In addition, apples are antioxidants and have natural UV protection. The apple peel contains high fiber concentrations such as pectins and cellulose, effective against skin eczema.
Apples make your skin looks firm and fresh.
A red-cheeked apple, such intense fruit colors are actual super substances. From a chemical point of view, the dyes belong to the so-called flavonoids and antioxidants. That means anyone who eats an apple daily protects themselves from free radicals. And that's guaranteed to be seen because antioxidants help alleviate the visible signs of aging. The skin looks firm, fresh, and supple instead of wrinkled and pale, and your body is firm.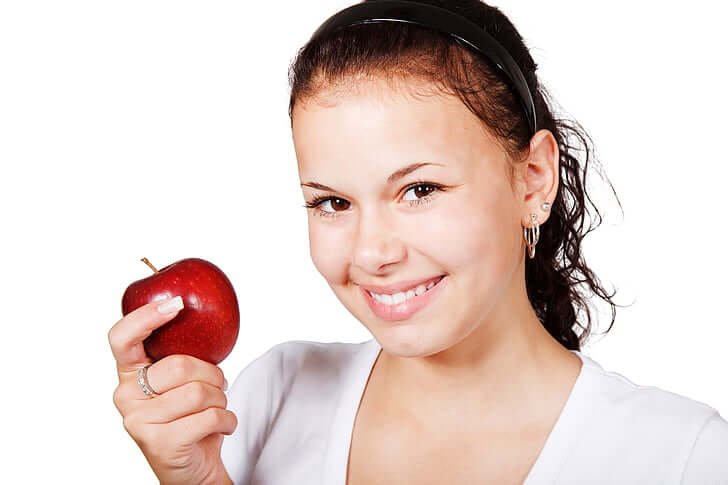 Apples keep you young.
But how do flavonoids work? You can think of it this way: Every one of our 70 trillion body cells is attacked by 10,000 free radicals every day. The number of attacking free radicals even multiplies the more you expose your body to stress, UV rays, smoking, little sleep, or poor nutrition. Free radicals destroy and damage body cells, making the body age and look old quickly. The antioxidants, the coloring agents in the fruit, help the body fight free radical attacks. And not only, but it also can repair damaged cells. Apples are not just beautiful because their antioxidants make them an effective anti-aging agent. It ensures pure skin, shiny hair, and shimmering nails. So if you want to do active anti-aging and be beautiful, two servings of these delicious fruits freshly picked from your region are the perfect solution for your daily diet.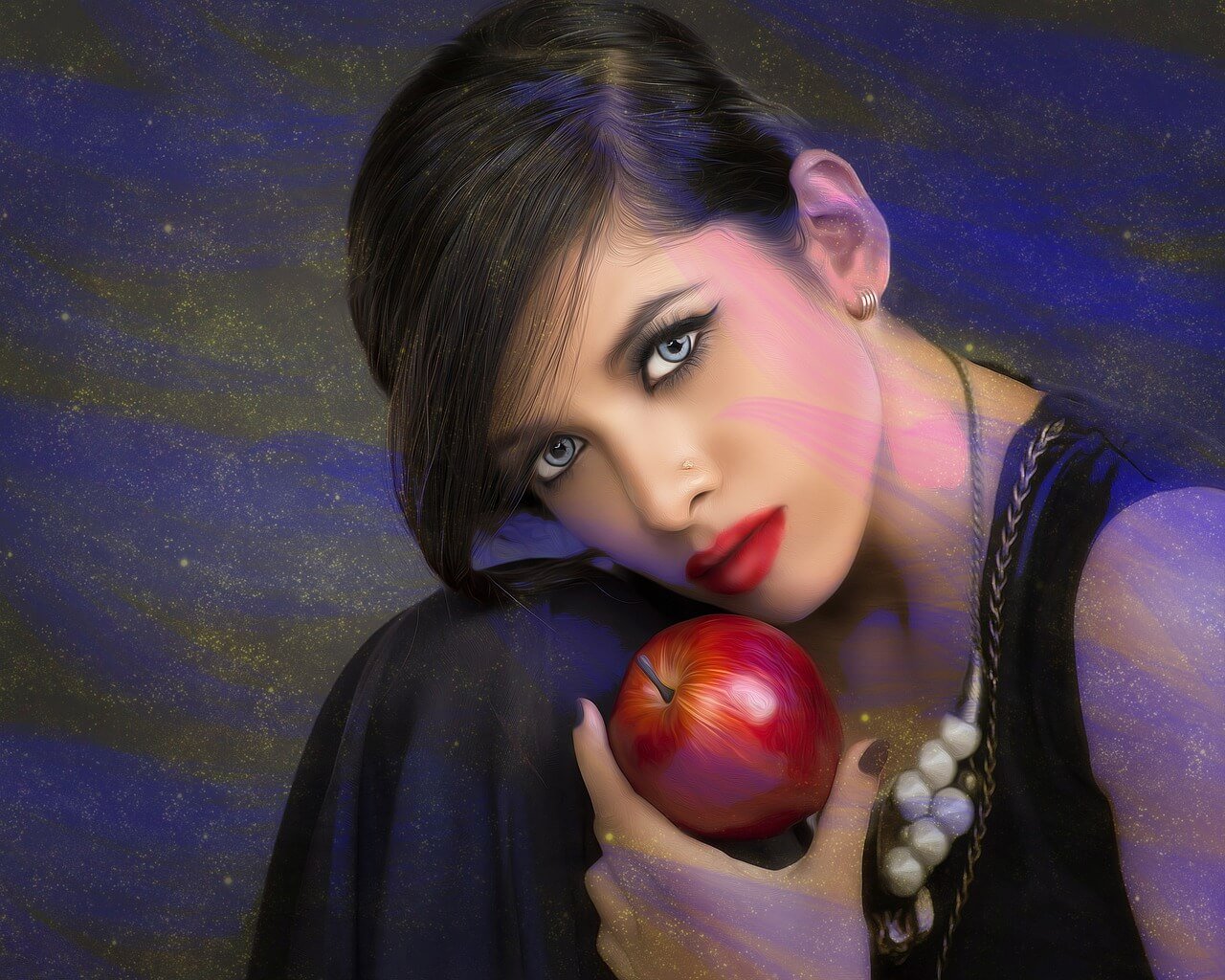 Apple yogurt mask to make yourself
Apples are also used externally as a proper wellness treatment for the skin. A homemade apple and yogurt mask helps with blemishes and dry skin. In addition to the vitamins and antioxidants beneficial for the skin, the pulp also contains zinc, tackling pimples and blackheads.
For sensitive skin, it is better to make your mild peeling. An apple mask or an apple scrub is a gentle alternative. The fruit acid contained in the apple gently removes the uppermost dead skin cells; the pectins of the apple improve the moisture absorption of the skin. To ensure that it is not polluted, use foods from biodynamic production.
Mix two tablespoons of yogurt with one tablespoon of honey to form a paste. Cut an apple into thin slices. Apply the paste to the face and place the apple slices on top. Leave it on for 15 minutes. Finally, wash off with warm water.
Apple face mask with oats.
We sometimes look a little tired in winter. We miss the sun, and our face doesn't shine. This mask could help. The oats are said to be helpful against reddened and inflamed skin. Often our skin is a bit inflamed in winter by the dry heating air, and we don't even notice it; there is just this feeling that it is not elastic. When we eat an apple, these substances help our body, but some can also be effective through the skin.
Pour hot water over the rolled oats and let them swell. Sieve off the remaining water. Grate a whole apple (including the peel) into the oat flakes with a fine grater. Add a spoonful of honey and stir everything well.
Apply the still warm mass evenly on the face and leave for 30 minutes, then rinse off with warm water. Apply regular lotion to the face.
Oh yes, you can simply eat up any leftovers.
Another variant is an applesauce face pack.
If you suffer from very oily skin, make the mask with the apple.
An applesauce face pack is a miracle cure, especially for skin over 50.
Mix mashed or pureed apples with a bit of honey, also add a pinch of cinnamon to stimulate blood circulation. The skin mask improves blood circulation and is moisturizing. Apply to the face, décolleté, and neck. Let it work for ten minutes and wash off gently with lukewarm water. The mask creates a wonderfully relaxed feeling, especially when the skin needs a lot of moisture. The fruit acid also works against wrinkles.
You can use crushed apple scraps also as a hand mask. Apply to the hands – especially the back of the hand – and let it work for ten minutes. Then rinse off the remains with lukewarm water. The hands become supple, and the skin firmer with regular use, as the mask has a strong tissue-firming and moisturizing effect.
A breast miracle mask is ideal for minor skin blemishes – especially on sensitive areas such as the décolleté and breasts. To do this, puree an apple with seeds, mix it with a dash of apple cider vinegar and a teaspoon of yogurt and apply. After ten minutes, gently wash off. And let the natural active ingredients continue to absorb. This mask has a contracting, anti-inflammatory effect and the natural fruit acid content of the apple and vinegar strongly stimulates the skin's renewal processes.
Unfortunately, far too many apples and apple scraps end up in the trash. It's a shame because the brown color doesn't change the quality, and it's just a reaction of the enzymes to oxygen. So if we don't want to eat the apple anymore, we can use the leftovers for skin care.
If possible, buy apples from regional producers of organic quality.
See also A Flaxseed Mask For Natural Skincare Will Amaze You
Gift yourself flawless skin with The Annmarie Skin Care 3-Step Trial of the most high-quality products. This pampering package is all-natural and guaranteed to hydrate, soothe, and rejuvenate your skin and lift your spirit.  Only $19.99 with free shipping in the US & Canada.