Annmarie Gianni Probiotic Serum with Tremella – Bio Facial Elixir.
Hi, organic/nature lovers,
If you have come across quality organic skincare, you'll get how excited I was when the team at Annmarie introduced their bio facial serum containing Probiotic. They've got amazing serums but now serving us a Probiotic and Tremella course.
Naturally, everyone should be stoked about this because we all know that as much as Probiotics are a good growth stimulant for our guts. It's also rich to balance the skin's overall wellbeing and sensitivity. Whether taking it in internally or externally, Annmarie's is all about healthy skin and we too love looking good.
With Probiotics being the life of this bio-facial elixir, it's supported with age-defying ingredients to make your face the mirror of youth. I mean you can have a naturally rich facial elixir to improve the skin's ecosystem without some age and wrinkle-defying contents.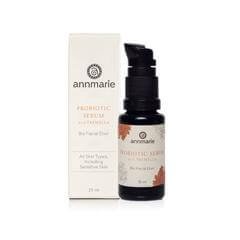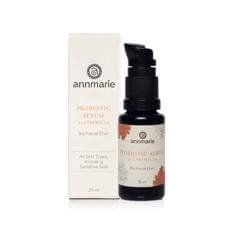 What Makes it Awesome?
The unique ingredient of Tremella– a Chinese mushroom with impressive healing and revitalizing qualities has been the ancient beauty secret ingredient for skin care. With a distinctively shaped jelly-like/gelatinous flower, Tremella is the spotlight of this facial serum.
Tremella is considered exceptionally hydrating and a worthy nature's alternative to hyaluronic acid because of its richness in polysaccharides and beta-glucans (compounds that create a supple, firm, and plump appearance in the skin). You'll bet this is the serum you've been looking for, right? Who doesn't want to have a supple and dewy look every day…
The Serum, which is exceptionally crafted for ultra-sensitive skin and can also be used by all skin types, is complemented with bio-ferments of Fermented Olive Leaf Extract and Plankton Extract, producing phytochemicals, peptides, and antioxidants. As you know, with most of Annmarie's products, these extracts were biologically enhanced to increase their nutrient density and ability to absorb effectively into the skin.
As with all their serums, this one isn't quite different as it contains Aloe vera juice, including leaves of nettle, comfrey, plantain, dandelion, and olive – all-natural herbs of nourishing and restorative properties.
What Will the Probiotic Serum do for you?
With all its rich bacteria, antioxidants, and herbs-infused ingredients, the facial elixir aims to achieve;
Improve overall skin hydration, enhancing skin suppleness
Reduce the appearance of temporary redness and other skin burdens
Balance skin pH, restoring a healthy complexion
Naturally calm skin that is reactive to environmental stressors
And many more amazing wonders for your sensitive skin
For better results, ensure you apply a good amount of the serum to a clean face. This means applying before your face moisturizer as you let this serum set the base. Dab on your cheeks, nose, and forehead thoroughly. With a unique herbal sweet scent, a little amount goes a long way as it sinks into the skin to make your face feel soft, calm, and hydrated.
For $69, you'll most likely (well…obviously) want to get the best results with this eco-beauty facial elixir/serum well formulated and packaged by the Annmarie Skincare team. Even their COO, Racheal, had to share her herbal beauty formulas in making this beauty.
Downside?
You might not be particular or like that, it's made with Carrageenan or think $69 is pricey – their products are.
With such an eco-beauty, mother nature-like skin care company, the ingredients contained are:
Aloe vera juice, Probiotic ferment, *Squalene, *Tremella mushroom extract, plankton extract, fermented olive leaf extract, *aloe vera juice infused with herbs (*nettle leaves, *comfrey leaves, *Plantago leaves, *dandelion leaves, *olive leaves), aspen bark extract, *Glycerin, *tamanu oil, *avocado oil, superoxide dismutase, camellia leaf extract, essential oils of sacred frankincense and vetiver, carrageenan [chondrus crispus], astaxanthin, *rosemary extract, non-GMO xanthan gum. *Organically grown or wildcrafted.
If you've got dry or sensitive skin (I know the struggle), trust me, this Probiotic serum with Tremella will be the hydrating serum you've always wanted within a few tryouts. For more, check out annmariegiannie.com and posts on their other products…
Stay hydrated and moisturized!
Discover wildcrafted serums that combine a three-step, Energized, Botanical Infusion Process that provides optimal skin results and daily skin health.
Skin-specific facial serums formulated with potent plant-based, non-toxic ingredients support smooth, balanced, and firmer skin. These three signature serums include a trial of a skin-specific alchemy blend from Annmarie Skin Care at over 70% off.